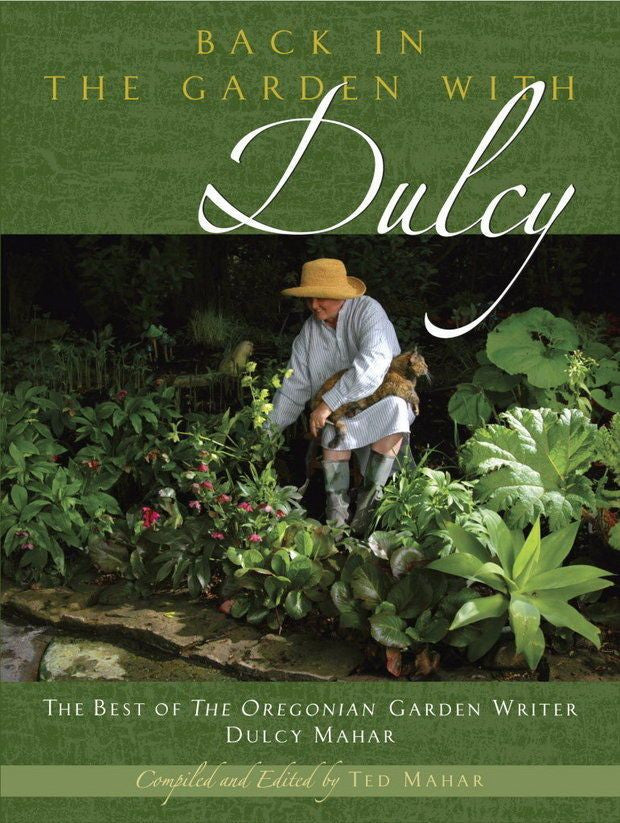 Back in the Garden with Dulcy: The Best of The Oregonian Garden Writer Dulcy Mahar
$22.95
How did Dulcy Mahar become a rock star of the Northwest gardening community? By writing a column for The Oregonian that didn't preach slavish imitation to your next-door neighbor's immaculately mowed lawn and trimmed hedges. Using humor and charm as she shared her weekly triumphs and humiliating mistakes, Dulcy always reassured her readers that it was okay. "As a gardener, I learn by trial and error, and error, and error," she blithely confessed.
Dulcy's column ran for more than twenty-two years, showing her readers there was adventure and beauty in their own backyards. Her columns were packed with solidly researched direction and knowledge sprinkled with wit. Her fan base ranged from beginners to master gardeners.
When Dulcy died of ovarian cancer in July 2011, devoted readers begged for her columns to be reprinted. Through Dulcy's editor, they urged her husband, Ted, to write a book.
In BACK IN THE GARDEN WITH DULCY, Ted reflects on their nearly fifty-year marriage, surrounded by beloved cats and dogs, and a garden that served as a laboratory for her columns. He has also selected 150 of Dulcy's most popular and requested columns for this special volume, which is complemented by more than 60 color photographs.
Remarkably, Dulcy had virtually no horticultural training. With the help of her garden partner (a regular column character she called "Doug the Wonder Boy"), she created walking paths, sitting areas, vegetable and rose beds and more, always sharing her discoveries with her readers who thought of her as "the best friend I never met." Through her victories and failures, Dulcy bonded with them all.. BACK IN THE GARDEN WITH DULCY is a beautiful volume that reminds us of the pleasures we derive from tending our gardens.
Ted Mahar was a film and television writer and critic at The Oregonian for nearly four decades. This is his first book. 
---
Trim Size: 6 5/8" x 8 7/8"
Pages:  288
Columns:  150
Photos: 60 Color
Case Qty: 20
Format: Upright Flexibound Soft Cover with Endsheets
Category: Gardening
Price: $22.95
Pub Date: November 2013
Publisher: Carpe Diem Books
ISBN:  978-0-9897104-0-4