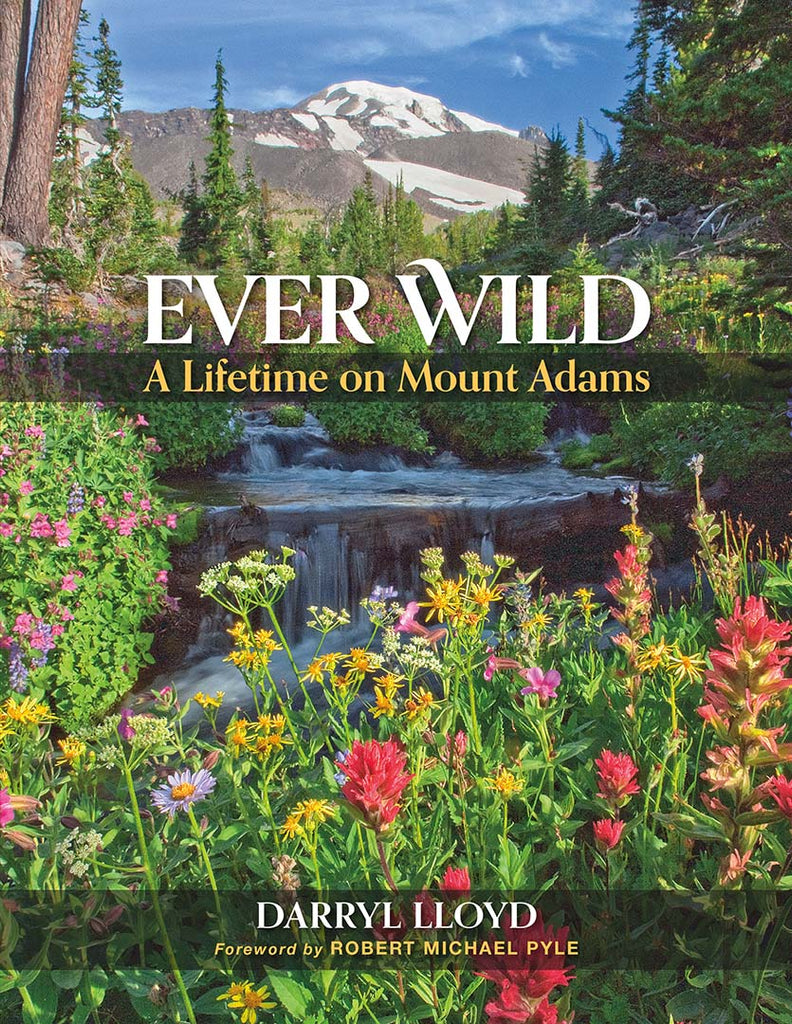 Ever Wild: A Lifetime on Mount Adams
$29.95
THIS IS A PRE-ORDER TO ASSURE YOU WILL RECEIVE A COPY OF THIS BOOK WHEN THEY ARE AVAILABLE ON SEPTEMBER 1 - YOUR ORDER WILL BE SHIPPED OUT TO YOU ON SEPTEMBER 1, 2018, A SHIPPING CONFIRMATION WILL BE EMAILED TO  YOU AT THAT TIME.
Text and photography by Darryl Lloyd
Foreword by Robert Michael Pyle
ISBN 978-0-9897104-9-7
www.mtadamsbook.com
Published by Carpe Diem Books®
What binds a man's soul to a mountain? Through a personal journey spanning seven decades, Darryl Lloyd cemented his place in the sweeping story of Washington state's Mount Adams. Lloyd is the foremost authority on this northern Cascades massif, a sometimes overlooked, but never forgotten, hulk of a mountain known as Pahto to its earliest inhabitants. Growing up on a ranch at the mountain's base, Lloyd devoted his life to learning the mountain, observing the ebb and flow of its glaciers, photographing the play of light, wandering lush meadows and old-growth forests, hiking boulder-strewn slopes and scaling icefalls…and showing the way for those who've followed.
Ever Wild is a mix of adventure memoir with enlightening doses of human history, geography, geology, botany, and a call for protection.
KEY SELLING POINTS
A compelling book for conservationists and for people who love nature
Exclusive collection of photos & illustrations
First full-sized book devoted to the diverse character and unique qualities of Mount Adams. Most only know bits and pieces of its fascinating human and natural history
Ever Wildoffers a fresh, hopeful perspective at a time when global economic, social, and environmental crises are growing
An acclaimed expert on Mount Adams, Lloyd has garnered interest in the mountain through regionally published feature-length stories and filmed videos, including the Oregonian, OregonLive.com, OPB-TV's "Oregon Field Guide," and the Seattle Times
Foreword by Robert Michael Pyle, scientist, ecologist, environmentalist, and author of twenty-three books
From Carpe Diem Books, publishers of the regional bestseller, The Oregonian Cookbook
SPECIFICATIONS
Trim Size: 8½" x 11" (Portrait)
Pages: 160
Photos, Maps, Illustrations
180 4-color and b/w
Format: Softbound sewn (with 4" flaps)
Paper stock/printing: 100 basis, premium dull coated/printing 4 color plus spot gloss varnish
Packaging: Individually boxed in white gift box mailer
Price: $29.95
Pub Date: September 1, 2018
ISBN: 978-0-9897104-9-7
Carton Quantity: 15 Total carton weight 30 lbs.